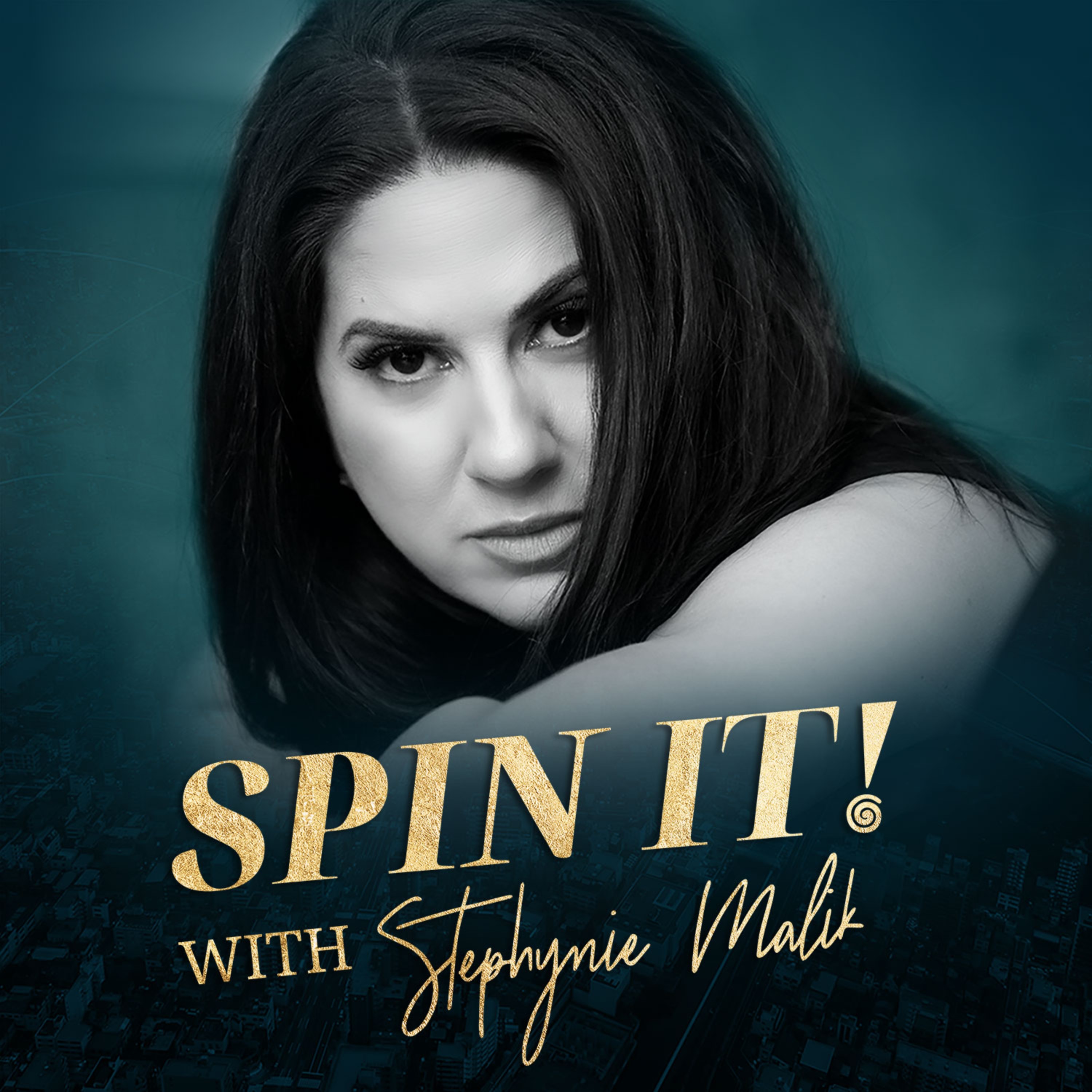 SPIN IT is a business podcast that will inspire you to see failures and obstacles as a stepping stone for success, transforming them into a new path forward, a path that you may not have seen or considered before. Whether it's a scandal or a broken business model - obstacles are an opportunity to learn, pivot and go after your goals with a new perspective. Hosted by Stephynie Malik, award-winning Crisis Management Expert and Business Strategist, this podcast offers you advice and guidance on how difficult situations can result in successful outcomes. It's all about how you Spin It!
Episodes
Monday Aug 09, 2021
Monday Aug 09, 2021
Today on the show Stephynie is speaking with the Chief Heart Officer at VaynerMedia, an emotional optimist, a speaker, writer, and mother, Claude Silver. Silver is the first-ever Chief Heart Officer of VaynerMedia. In 1989, at 19-years-old, Claude was self-admittedly "f*cked up." She was addicted to drugs. She dropped out of school. She faced incredible hardship.
Claude knew she needed to shape up her life at 19. So she quickly took action.
Claude considered several options, including the Peace Corps. She ended up finding a three-month Outward Bound program that brought her into the wilderness for weeks at a time. She only had access to a shower once every 18 days!
It was during Claude's time in the wilderness with Outward Bound that she developed the emotional and physical strength she needed to become the Chief Heart Officer at VaynerMedia.
Social Media:
Reach out to Stephynie directly at: hello@smalikent.com
Follow Stephynie on Linkedin: https://www.linkedin.com/in/stephyniemalik/
Follow Stephynie on Instagram: https://www.instagram.com/stephyniemalik/
Follow Stephynie on Clubhouse: @stephyniemalik
Check out my website to learn more about my work: https://stephyniemalik.com/
Timestamps:
3:43 - The Bond Between Claude and Her Grandma
9:01 - Most Pivotal Decision Ever Made in Claude's Career
14:08 - Is This Claude's Dream Job?
18:32 - What Could Have Been Handled Differently With Simone Biles?
22:58 - We Know When We're Done With Something
24:23 -One Question Claude Wished People Would Ask Her
28:40 - When Does Claude Get Drained?
32:50 - How Does Claude Recharge with Self Care?
37:01 - 3 Interesting Facts About Claude That Not Many People Know
39:36 - If Claude Were Handed a Million Dollars to Create a Program...
45:05 - Who Is Claude's Perfect Employee?
47:26 - Who Would Claude Meet if Time and Money Were No Issue?
49:34 - Has Claude Ever Walked Away From Anything?
50:27 - Will There Be a Trend of Chief Heart Officers?
56:47 - How Well Does Claude Get Along With Gary V?
Mentioned in the Episode:
Website - https://www.claudesilver.com/ 
Linkedin - https://www.linkedin.com/in/casilver
Instagram - https://www.instagram.com/claudesilver/?hl=en
Twitter - https://twitter.com/claudesilver?ref_src=twsrc%5Egoogle%7Ctwcamp%5Eserp%7Ctwgr%5Eauthor
YouTube - https://www.youtube.com/channel/UCzWe3A7wlKRHjEcTqWcA_kg
Facebook - https://www.facebook.com/people/Claude-Silver/100062998733181/
The Emotional Optimism Podcast - https://anchor.fm/eoandthesilverlining